Computer Systems
Components and Peripherals
Back to top
Image for illustration purpose only.

Netcomm NB100 PCI ADSL Modem

Internal

Stock Availability (Osborne Park/Online Orders):

In stock.

Product Code: MONENB100
Additional Product Information
The information below is provided for browsing purposes only. Product Models and revisions change frequently and discrepancies may occur.
Netcomm NB100 PCI ADSL Modem

Designed for PC assemblers and system builders, the NB100 PCI ADSL modem can deliver broadband connectivity built-in to a desktop computer system. The NB100 is ideal for a Media Centre PC which can deliver the on-line content direct to the unit without the need for a separate ADSL modem device.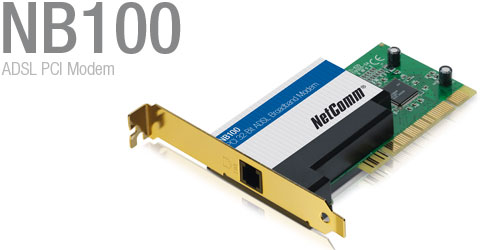 FEATURES
• Compliant to ITU-T G.992.1 (G.DMT - Annex A & B)
with G.994.1 (G.hs)
• Compliant to ITU-T G.992.2 (G.Lite - Annex A) with
G.994.1(G.hs)
• Compliant to ANSI T1.413 Issue 2
• Compliant to ETSI TS 101 388 (ADSL Over ISDN)
• OAM functionality based on G.997.1 (G.Ploam)
• Downstream and Upstream data rates up to 8Mbps and
1Mbps respectively
• Fully supports PPP over ATM (RFC2364) protocol standards
• Fully supports PPP over Ethernet (RFC2516) protocol
standards
• Fully supporst Ethernet Routing over ATM (RFC1483)
protocol standards
• Compliant with PCI Specification 2.3.
• Supports Plug-and-Play Installation
• Software upgradeable to new ADSL standards
• Control panel applet provided for real time diagnostic
information

MECHANICAL
• PCB dimension: 12cm (L) x 5.8cm (W) x 1.6cm (H)

HARDWARE INTERFACE
• One RJ-11 port for ADSL connection

ENVIRONMENT
• Operating Temperature: +0 ~ +50°C
• Non-operating Temperature: -20 ~ +70°C
• Operating Humidity: 20%~80% RH
• Non-operating Humidity: 20%~80% RH
ESD
- Air discharge: 8KV No error
12.5KV No restart error
15KV No damage
- Contact Discharge : 4KV No error
7KV No restart error
8KV No damage

ADSL COMPLIANCE
• Compliant with ADSL standards:
- Full Rate ANTI T1.413 Issue 2.
- ITU G.dmt Annex A & B (G.992.1).
- Splitterless ITU G.lite Annex A (G.992.2).
- ITU G.994.1 (G.hs).
- ETSI 101 388 (ADSL over ISDN).
- ITU G.996.1 (G.test).
• DMT modulation and demodulation
• Adaptive rate:
- Maximum downstream rate of 8Mbps
- Maximum upstream rate of 1Mbps
• Bit swapping support for Upstream/Downstream
• Interoperable with all major DSLAMs
• Software upgradeable to new ADSL standards

ATM PROTOCOL
• Support PPP over ATM (RFC2364)
• Support PPP over Ethernet (RFC2516)
• Support Ethernet Routing over ATM (RFC1483)
• Support OAM functionality based on G.997.1 (G.Ploam)

PCI INTERFACE
• Compliant with PCI Specification 2.3
• Compliant to PCI Power Management Specification
• PCI Bus-powered device set.

OS SUPPORT
• Windows XP
• Windows 2000

SYSTEM REQUIREMENT
• Windows XP/2000 Operating System
• Pentium 4, 2.4GHz compatible processor and above
• 64MB RAM or more
• 50MB of free disk space for driver installation
• CD-ROM

APPROVALS
• A-Tick N367
NETCOMM