Image for illustration purpose only.

Logitech MK710 Wireless

Keyboard & Optical Mouse Desktop Bundle 920-002510

Stock Availability (Osborne Park/Online Orders):

Out of stock, please enquire.

Product Code: KBLOMK710

Manufacturers Website:

www.logitech.com
Additional Product Information
The information below is provided for browsing purposes only. Product Models and revisions change frequently and discrepancies may occur.
Logitech MK710 Wireless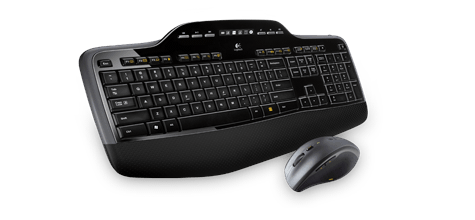 Comfort and productivity go hand-in-hand thanks to concave keys, a cushioned palm rest and a hyper-fast scrolling mouse.

Logitech® Incurve keys™
Concave keys with softly-rounded edges position your fingers properly and invite your fingertips to glide from key to key—keeping you comfortable for hours.
Low profile, longer key travel
Not easily found on many low-profile and laptop keyboards, longer key travel improves comfort and your overall typing experience.
Cushioned palm rest
Your hands can relax—the cushioned palm rest feels so much better than hard plastic.
Sculpted mouse
It positions your hand and fingers comfortably and naturally.
Hyper-fast scrolling
You'll fly through long documents and Web pages with just a flick of the nearly frictionless scroll wheel.
LCD dashboard
It gives you at-a-glance icon status of your battery, Caps Lock, Scroll Lock and Num Lock, so you won't skip a beat while typing.
Three-year battery life
The batteries in both the keyboard and mouse last up to three full years, so you can forget the hassle, expense and waste of frequent battery changes.*
Logitech® Advanced 2.4 GHz wireless connectivity
You can confidently work and play where you please. Encrypted, secure cordless technology ensures you a reliable connection with virtually no lags or dropouts.**
Specifications
System Requirements
Windows® XP, Windows Vista®, or Windows® 7, Windows® 8
USB port
Warranty Information
3-year limited hardware warranty
Package Contents
Keyboard
Mouse
USB 2.4 GHz Unifying receiver
4 AA alkaline batteries
User documentation